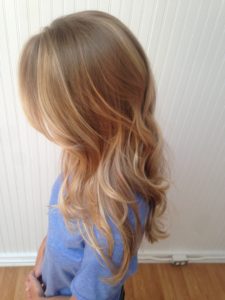 Can we all just say WOW! There is nothing more exciting than working on a head (basically) full of virgin hair. Bronde. Fresh balayage and blowout.
I recommend  using the Davines Dede Shampoo and Davines Dede Conditioner. I chose the Dede line because her hair is very healthy. She needs something light weight to cleanse and moisturize her hair without weighing it down.
Style Out:
1. Because her hair has just been highlighted I would recommend using Davines Oi Milk. It is heaven in a spray bottle. It is a detangler and conditioner. Then Comb.
2. Apply Moroccan Oil Root Boost
3. Apply Davines Volumizing Boosting Mousse
4. Blow dry using Cricket 390 Metal Round Brush
5. Apply Minu Texturizing Dust to the crown of her head and in her bang area.
6. Curl using Hot Tools 1 1/4 Curing Iron on a medium heat setting. Leave out the last two inches and break up the curl before it completely cools off.
7. Finish off with  and a little Davines Dry Texture Spray.